Welcome to the DATE 2022 Website
Wed, 1 Dec 2021 08:33
Deadline: Monday, 13 December 2021
Your submission for DATE 2022 has been accepted. Congratulations!
This page contains instructions to prepare the final material required to publish your contribution in time for the conference.
DATE Newsletter Subscription
Thu, 21 Oct 2021 10:59

DATE 2022 activities are organized around a new format to cope with the uncertainties of the covid-19 pandemic situation, with part of the event onsite and the rest of it online in the following days.
The onsite event is organized into two parallel tracks, one with invited sessions, talks and panels on emerging topics of interest for the DATE community, and a scientific track showcasing the accepted papers and fostering Q & A sessions with the authors.
All scientific papers from tracks D, A, T and E will be presented by means of a recorded video and authors will attend the online sessions to briefly pitch their work and be engaged in Q & A sessions to discuss their solutions and results.
Specific sessions are organized for the accepted Interactive Presentations (IPs), where authors will have the opportunity to introduce the main aspects of their work, and be engaged in further discussions.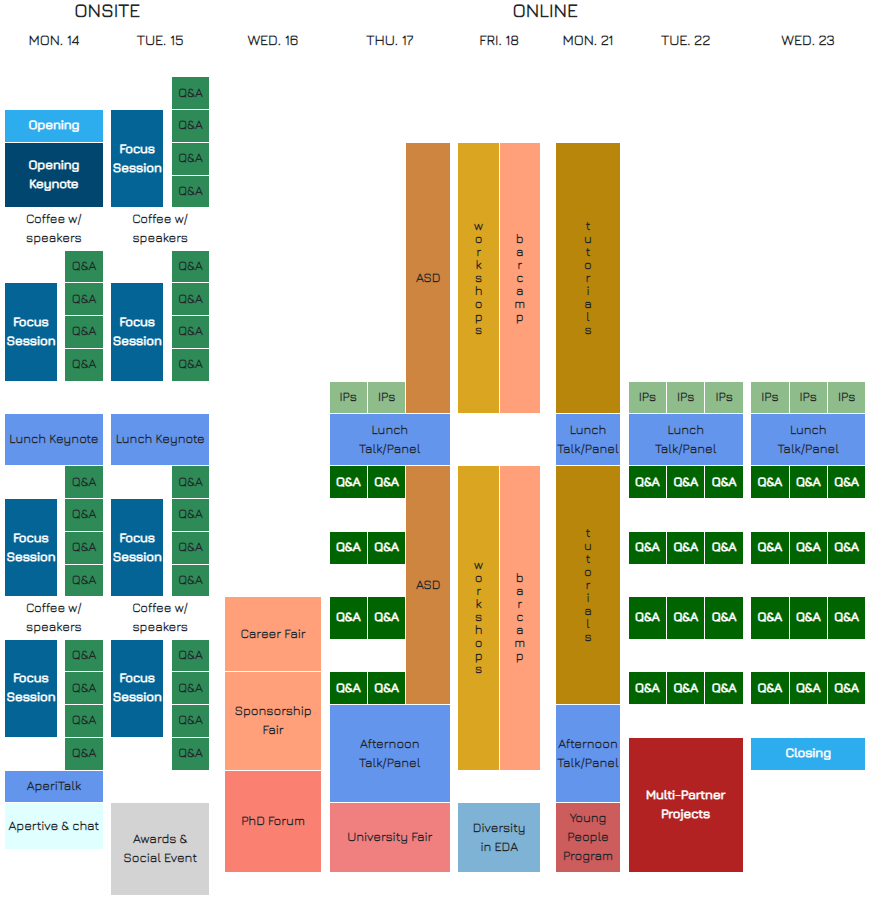 Thu, 21 Oct 2021 09:27
For companies, DATE 20

22

offers numerous opportunities to get in contact with the DATE community and to advertise their novel solutions.
Download the DATE 2022 Sponsorship Opportunities here
There are opportunities to advertise during the onsite days, as well as on the online platform, which attracted even a higher number of attendees in these past two editions. Indeed, the conference platform will serve as a point to flexibly meet with the attendees as well as to host non-live content.
Consult the DATE 2022 sponsorship opportunities brochure to find the most suitable option for your company. Tailor-made packages can be arranged to suit your special requests.
Feel free to contact us to discuss your needs and ideas. We would be delighted to welcome you among our sponsors at DATE, and to see you in Antwerp and/or online, for an interesting program and effective networking.
Wed, 20 Oct 2021 10:27
PhD Students initiatives
The DATE 2022 conference includes a number of initiatives targeting PhD and master students, with the goal of increasing their visibility, establishing contacts, and encouraging discussion about their future perspectives with experts of the field.
Mon, 5 Jul 2021 12:37
The PhD Forum is an online poster session hosted by the European Design Automation Association (EDAA), the ACM Special Interest Group on Design Automation (SIGDA), and the IEEE Council on Electronic Design Automation (CEDA). The forum is a great opportunity for PhD students who have completed their PhD thesis within the last 12 months or who are close to complete their thesis to present their work to a broad audience in the system design and design automation community from both industry and academia. The forum may also help students to establish contacts for entering the job market. In addition, representatives from industry and academia get a glance of state-of-the-art in system design and design automation.
Download the DATE 2022 PhD Forum Call for Submissions here
Wed, 6 Jan 2021 10:49
Information for Students
The Young People Program aims at bringing together Ph.D. Students and potential job seekers with recruiters from EDA and microelectronic companies. Interested jobseekers have the opportunity to apply to open positions which will be presented by the companies. If a student raises the interest in the position, an online interview will be scheduled.
Eligibility
The following two classes of students are eligible:
Wed, 19 Aug 2020 15:34
Accommodation and Hotel Reservation
In cooperation with the service provider HRS, the Conference Organisation offers hotel rooms at favourable rates in Antwerp for all conference delegates.
Tue, 19 Nov 2019 13:57
The following persons have received the "DATE Fellow Award" for outstanding service contribution to DATE...
Subscribe to